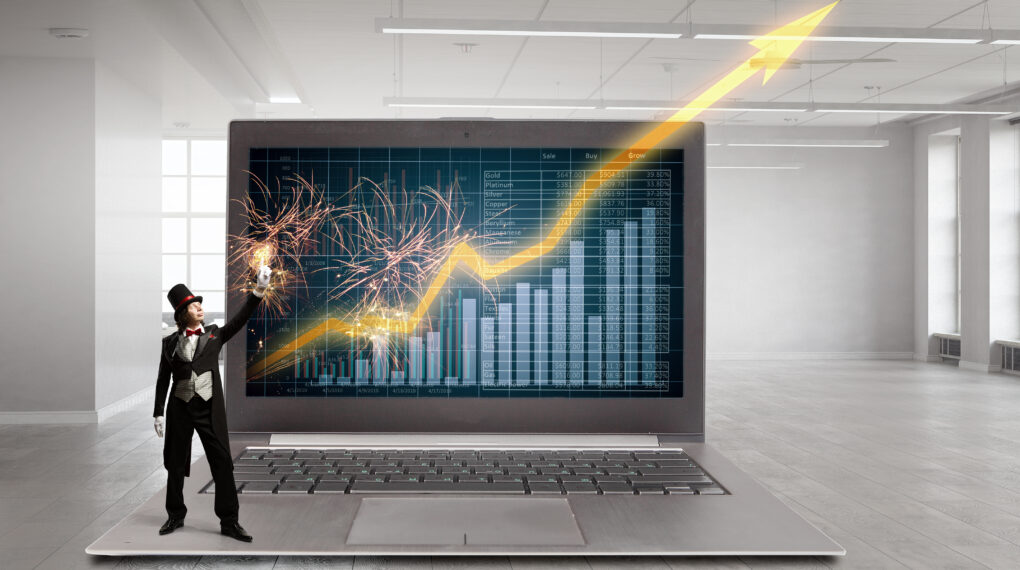 Can We Talk
To be honest today's article will be a little bit of a rant. I want to talk about the fantastical thinking that surrounds online digital lead generation. If you're a professional digital marketer, you know exactly what I'm talking about – it's that magic wand we most certainly have in our back pocket that produces so many conversions to purchase that we'll all retire wealthy before the end of the next fiscal quarter.
Please don't get me wrong here; we can realize tremendous digital lead generation results. Companies are killing it with combinations of paid search, optimized search, organic social, paid social, organic inbound content, paid native content, and paid banner media campaigns. Add to this list the need for active business development in social selling and you have the basics for your B2B strategy.
However this is a multi-pronged strategy – we are not talking about a singularly focused approach for any given tactic.
This article will not focus on consumer product lead generation/sales (we'll look at this in a later post); I'm taking a deep dive into B2B Lead Generation realities of the paid media spend analysis.
Let's Get Real
Before I go too far down a rabbit hole I always correctly set expectations. I always ask three questions concerning strategy. First "who are you attempting to convert – who is your audience?" Secondly, "what are the goals, how much revenue are we attempting to drive?" Third, "do you have a paid advertising budget, and how much?" This budget question is super important – paid advertising is a reality. Our goal is to always keep the cost per acquisition low – but – you will have a cost.
Regardless of how impressive your content inbound strategy is you will need to understand the need for paid advertising, especially if you are just beginning to move to a content/inbound first approach.
Because, by the way, no one cares about your article (blog post) or your cool posts across multiple social channels. There's a great deal that goes into building out an actual growth engine versus just a website and you need to be ready to put the time and budget into creating the right foundation.
The contextual content prong of your strategy takes time to build – it does not produce serious conversion results overnight. It also relies heavily on the right "mobile-first" designed and developed website with strong separate Search Engine Optimization efforts. These executions take time to build out and get them right. You need to raise awareness for your brand and do what you can to augment the infastructure efforts with a paid advertising spend.
How Much Fairy Dust
For argument sake, let's say you've done everything I Just outlined above with regards to building out a strong web destination – a growth engine website. Let's assume we're tasked with relying 100% on marketing web-generated leads and remember we have to accept we'll need to drive those leads through some degree of a paid media spend.
Or more than likely you've been asked how much ad budget would be needed if we just drive leads to the website to meet the organization's revenue goals?
If unrealistically we decide to throw money at media buys to fill sales funnels, whether it's traditional, Account-Based, or a hybrid, we have to do some essential cost estimating to get a handle on potential monthly media spends.
A Little Exercise
The example below demonstrates a monthly media spend estimation that I ran for a client. We knew several things going into the exercise that helped to get a handle on actual spends. We already knew that:
Average CPC – was coming in at $9.00 with all the appropriate curation of keywords, eliminating negative, etc. across Google Ads product and paid social (Facebook/LinkedIn).
Click to Conversion Rate – was low but not unrealistic for the service/product being advertised – there was some stiff competition with greater brand recognition with the total addressable audience searching for a solution.
Lead to Customer Conversion Rate – was at 20% but leadership intended to set a higher goal of 25% for the team to support the increased dedicated media.
New Customers – the goal for new customers was set for the organization by the marketing and sales leadership. The sales team consisted of "business development" professionals who were not actively working on any owned lists or curated from rented databases. This team continually pointed to a lack of "good leads" from marketing to meet at-risk quotas. The team closed on average 10 sales per month across the entirety of the team of five business development professionals.

Dig Deeper Into the Spend
We see clearly from the calculations above the estimated monthly spend to reach 100 customers would require at minimum $240,000.00 per month. The projected revenue would be $2,000,000.00 per month if all deals closed at the ideal sale total with all other variables coming in at our best estimates. This meant that the average CPC had to be at $15.00 or lower with at least 16,000 clicks, that generated 400 sales qualified leads for the team to hit a 25% or higher lead to customer conversion rate.
Sounds great right? Who wouldn't throw that kind of money at a media buy to see that kind of return on investment. But we have to remember that $240,000.00 per month is $2,880,000 per year in paid media buys. Is this really a good investment?
Well, glad you asked because we have to look at the realities of the total overhead of running the business to get to the net net of the total cost of acquisition.
Five sales professionals sat on staff at $50,000.00 each annual base. Only one of these professionals was making anything close to quota so a great deal of dead weight was being carried from month to month on the business development side. Yes, one could propose cutting off the dead limbs and relying totally on the leads that could potentially fill the funnel.
Salaries for Operations, Accounting, Human Resources, Employee Benefits, Insurance, monthly facility costs that included rent, utilities, office supplies, cost of materials, and the rest have to be taken into account when we consider the net number we need for actual return on investment calculations.
With the company reselling solutions in addition to their wholly owned products there was a commission element that had to be taken into account. Not every sale would realize the ideal profit margins.
Not every month saw the same search traffic from a total addressable audience – we had to consider seasonality of the sales cycle, election years and fluctuations in the economy and buying behaviors. Additionally, was the total available search traffic enough to actually spend all of this mythical budget of $240,000 per month.
Beware the Magic Wand
We have to be very careful when we share this calculator with teams. Many team members want to only look at the best case (magic wand) scenario without taking into account the challenges noted above and what the realities of the day-to-day operations are creating in a total cost per acquisition.
The calculator above gives us a neat and tidy number of $600.00 for a Cost Per Acquisition metric. Again, let's be clear that is just the media spend for this exercise. We must look at all the costs that go into any given deal. With this specific client we drilled down and saw that before we even got to a media spend the total cost of keeping the business running every month came to $2.1 million dollars. If we take into account the entirety of monthly costs we actually have an average cost per acquisition of $5,900.00.
Even with these cost per acquisition numbers – if all estimations deliver – the return on investment is really good. But again, this is a fantasy to believe that a B2B organization will see these kinds of returns month over month without fail from just a paid media play. It's super risky to have a business development team (or no team for that matter) completely dependent on just a media spend to drive new business.
Let Me Ask the Question
My question again will come back to "do you have a paid advertising budget, and how much are you willing to commit to spend every month?" We can now see why I ask this question when we're talking about online lead gen.
I am not saying that this kind of money is required for success for any given company. This was an example of the kind of exercise one client was taken through to get a handle on the realities of "throwing money" at a lead gen funnel. From this exercise, it can become apparent that other very important marketing executions need to take place.
The company we worked with did NOT agree to a monthly spend of $240,000 per month. The team actually wound up successfully implementing a hybrid approach that included elements of Account Based Sales and Marketing, Inbound/Content Marketing, Cold Connections 2.0, and Paid Marketing that produced a far better result than just a straight up paid media play.
In my next article I'll go through in detail what the broader B2B marketing strategy should be focused on for 2021 so companies are not at the mercy of the bloated media buy.