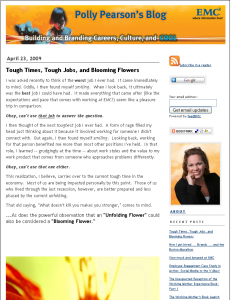 I spend so much time explaining to corporate HR departments the value of a social medium like Blogging. And the response I normally get is…"too risky"…"can't control the message"…and more often than anything else…"who would we get to do this?"
Okay, I'm gonna tell you who you get to do this! The CTO, VP Compliance Solutions, Technical Business Consultant, Director of Web Strategy, General Manager, SE Lead for Storage Backup and Recovery. At least that's who EMC has recruited to participate.
Your employees for goodness sake…and not just any employee…but your leadership and then some! Of course this speaks to employer brand…and allows the candidate an opportunity to hear from the senior leadership that they'll rely on for company vision. And then if you are wise enough to grab a few evangelistic, enthusiastic work force "folks" you will enable all candidates to see themselves in the organization…allow them to embrace affinities before they even join the corporate family.
Now of course this has to be done correctly…no "fake" bloggers here! Look at EMC…their are actual posts within the last week or so…not posts from months before. I was consulting with a client and benchmarking against competitor careers sites.
One of their competitors was "blogging." But in reality they had "articles" from employees…I guess they were employees. And while the "articles" might not have been full on "Astroturfing" the whole experience just wasn't ringing true…know what I mean? I found it interesting that after I brought that information to light in a couple of presentations…the "blogs" were pulled from their site.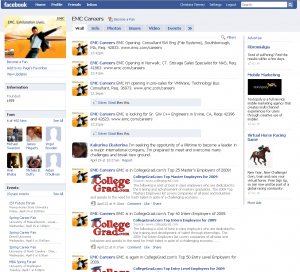 I remember when we used to sit in front of a client and educate. We were the first ones sharing with them the new features, the successes we had with similar clients…remember those days. And then one day the internet began to disintermediate the process and the clients were now coming to us with horror stories from the web. Instead of selling or educating, we were having to defend…apologize…beg for a chance to prove the conversation on the web "wrong."
With employees blogging…conversing…the first ones to initiate a thought process…we are actually able to intervene on the sale again! The power of blogging isn't just in the ability to jump into the fray that is our current pro-sumer media experience…it's about taking back the power to be the subject matter expert. To be that trusted business adviser you would call with a problem…we could fix the billing…connect clients to internal client partners, that could turn into advanced sales.
So okay…HR customer ask me where the ROI is…and why this would behoove your organization to participate. Ask me why should we take the effort to build this practice. It seems pretty evident to me…Lead, Follow…or just plain get out of the way.
Originally posted – March 19, 2008