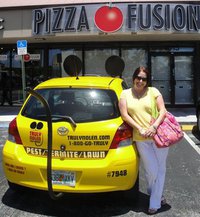 What a day!  It was tremendous fun!  In addition to being honored as a Brand Ambassador for the day, and getting to ride in the Truly Nolen Mousecar, I got to meet some amazing people.  I genuinely enjoyed my day sharing smiles and some laughs along the way.
Our day began with our orientation in the Mousecar Headquarters.  All 10 contestants were introduced to their Drivers.  I was releaved that I would have a driver…seeing how I would never be able to share the days events while Tweeting/Facebook/or Texting while driving!  🙂
I had the pleasure of riding with Rafael Rodriguez.  Rafael is an amazing gentleman with a true entrepreneurial spirit!  It's clear that he's passionate about the work he does.  You can follow him on Twitter @rrodriguez1967.  After our day in the parade…I could tell he saw the power of Twitter, and other Social Media channels, like Facebook and LinkedIn.
As we were on our way to I95, I took the opportunity to Vlog (Video Blog) about the trip, and to get to know Rafael and Truly Nolen a little better.  The video is longer than 3 minutes…but I do believe it's worth sitting through all "6." 🙂