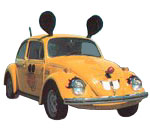 When I get a chance to ride around town  in "the" Truly Nolen Mouse Car, and with a totally cool Twitter Peep no less…I jump at the chance and say "Hell Yeah!"
Be sure to keep your eyes open for @FloridaFrecks, and myself @TwittGoddess as we tool around town in our way cool Truly Nolen Mouse Car, in the #MousecarParade.  We'll be a part of a very cool pack of MouseCarTeers!
@amandastewart
@vicequeenmaria
@miamishines
@abachinminuet
@jarrett23
@pizzafusion
@fsutoby
I'm trying to keep up with all the crew…and may have missed a few…forgive me if I did.  If you're in the parade…comment below and let us all know who you are.
We'll be tweeting from the route…and I'm going to upload video footage of our silliness during the day…if I can.  If I'm too busy having fun…I'll post the days events afterward.  Keep your eyes open – you don't want to miss this!  🙂