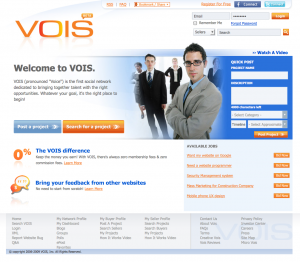 When I interviewed Kevin Wheeler last month he talked about top talent taking their "A" game and charting their own course.  That really got me thinking. Who are the "A Players" today and where are they?
Are they sitting in cubicles in major corporations?  I'm thinking maybe not…since we've seen so many jobs eliminated over the last year.
I then thought of one person in particular…Craig Agranoff AKA @lapp.  He's most known in my community as the www.WorstPizza.com guy.  I originally met him at a Pizza Tweet-up where I won a gift certificate to The Sicilian Oven, in Lighthouse Point, FL.  Which by the way…EXCELLENT pizza…totally check them out.
But what I didn't realize was while Pizza is his TRUE passion…he does have a day job. Craig is the Co-Founder of www.VOIS.com, a "social sourcing" site dedicated to connecting superior local talent to legitimate projects.   Craig  shares his journey out of the traditional 9 -5 Corporate America job to pursue his entrepreneurial dreams.
Thanks Craig for your time and support of my budding video career 😉  Here's wishing you all the success you can take.